2010/08/18
| Filed under
Book
| Tags .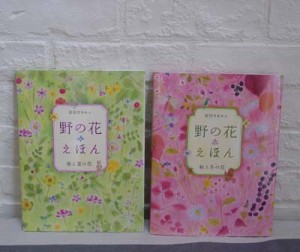 My newest book, 2nd volume about autumn and winter for wildflowers in Japan,has been released last week.
if somebody asked me  how  I feel in my mind while I work for painting pictures,
I would answer, I feel like to pray…
The Japanese empress Michiko, said ' The imperial family in Japan should be 'prayer'.'
The 'pray'  for Nature or worship to Nature is  basis of Japanese mentality.  Maybe I just  have the feeling naturally.
It is not the pray based on the written doctrine. if I have to explain it by words, I would say,
it is something like a desire to be united within nature…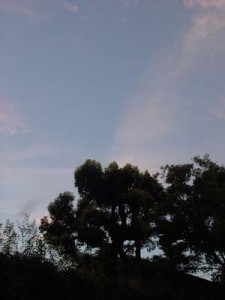 2010/07/10
| Filed under
Art
| Tags
Art, kids
.
The lovely exhibition is opened toay at LINNET store, and will keep going until 24th July. This is a small display of sewing and drawing works by Vejas,  a 13 years old boy who lives in Quebec in Canada.
It was in last year that I received the first letter from Vejas. Nice drawings and a hand work was enclosed.
He was a on-line customer for LINNET, but we never imagined he was a 13 years old.
He wrote in his letter ' though I am a guy, I like sewing and hand made' and also he told that he has Lithuanian origin.
I wrote back to him that I was so impressed by his works and drawings, and I don't think it is funny if boy likes handmade and sewing, as LINNET is working with some 'male' artists  for sewing and handmade, because they are so talented. I thought Vejas is also very creative and he can be a creator when he is older. and also I asked him whether he have been to Lithuania, as Lithuania is very famous in Japan for its flax and linen production.
So, He wrote me back again saying he have been to Lithuania, for a funny reason that was for his grandpa's dentistry!  I loved to read his story in Lithuania, it made me feel I was in a kind of American novel.
That was how we have started exchanging letters.
Gradually, my impression has grown bigger and bigger for those works by Vejas.  So I asked him if he agrees to display his works in LINNET store, as a small exhibision titled 'the letters from Vejas' and he agreed.
Those works are lovely, created by young hand of 13 years old, but also those ideas have enough quality to inspire us, fully grown-ups.
Additionally, his works and thoughts reminds me how I felt and thought when I was same age as Vejas.  Those feelings and thoughts are my core, unchanged trunk. Now it has  many shoots, branches, leaves, flowers and fruits, and the trunk has grown more thicker and steady.   I feel we are so close, beyond generation difference, that I enjoyed to talk with him by my 'trunk'.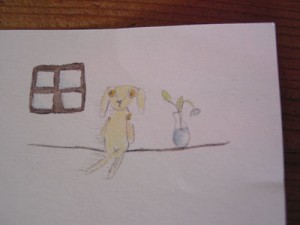 (above:one of my most favorite of Vejas's drawings  'Forlorn Bunny'
Vejas loves Japanese cartoons(manga) and told me that one day he would like to visit Japan.
I believe he can be a creator, maybe cartoonist or picture book writer&artist, if he would like to be, and I eagerly hope he would.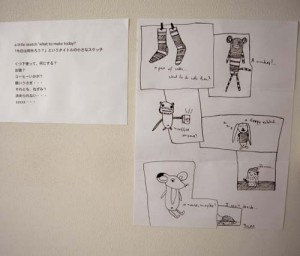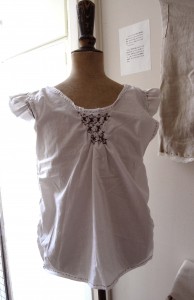 (Above left: Drawing titled 'What to make today?'.
I have translated his words into Japanese.
right: Vejas told me that he made this shirt for his sister's 6th birthday, but he sent this to me because his sister does not really like it in so far.  I love this item super, and definitely am going to send it back to him and his sister after the exhibition over, because I know his sister will understand how precious this gift is , when she grows older.)
2010/01/18
| Filed under
Book
| Tags .
In coming March, the picture book for kids, for which I have translated into Japanese will be released.
The original book is 'La mission de Seraphine' text by Sylvie Auzary-Luton, illustration by Myriam Deru, published by Mijade, a Belgian publisher. (Original text was in French, but I was given English text as well.)
For this book, I found it interesting , that the story includes a scene the mouse girl and her friend were so upset that they teased the naughty snail. (Finally happy ending) In Japan, we do not often have this kind of reality in children's books, so i was impressed about it illustrates kids' life naturally.
Nice happy story with beautiful and lovely illustrations, i am so delighted to have worked for this book.
By the way ,  I like to read books in English, and I often purchase from amazon.com directly, not only from amazon. co.jp, so I have got amazon kindle last month.
it's great! so nice for a person like me who loves reading on the couch.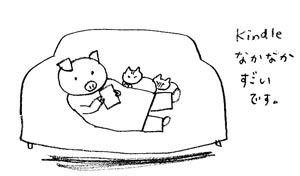 first I was surprised because  it was delivered  just 2 days after my order to amazon, shipped directly from the US!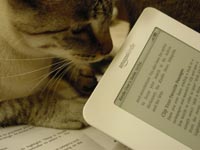 one of my cat 'nyanka' also checking the kindle.
at the beginning, i was wondering whether I can know correctly where in the book I am, but it was no worrying. because it shows where we reach by persentage in below on the screen,and I got used to it completely when I was finishing to read the first book in kindle.
The first book i read in kindle is 'Scat' by Carl Hiaasen. the suspense story for children, but intresting enough for adults too.
In Japan, e-book business was once collapsed in a few years ago, I think one reason was the shortage of contents. Japanese publishers were not very willing to release the book contents for e-book devices, but I think the overall structure of publishing business in Japan should also face to drastic change shortly… and I am also involved in publishing in Japan, so…what's next?
Personally I think, especially the visual books are better to have in real paper book style, while the books with just text  can definitely work well on e-books. So those paper books will persue more ' substantial beauty' , then it will be more closer to 'gift' (which we call 'zakka' in Japanese, in spite not meaning exactly 'gift' but I think it indicates same kind of goods as 'gifts'), with beautiful design, paper stuffs and so on.
2009/07/23
| Filed under
uncategorized
| Tags .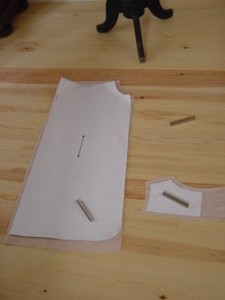 There is a topic which I have been wondering these days, it is about cutting fabric before starting to sew. That is: how overseas people are doing for that?
In fact, I usually do it directly on the floor.
In Japanese house, as many people know, we take our shoes off at the entrance, and keep our floor clean all the time. My own house which is in  a modern Japanese style,  doesn't have any tatami in fact, but like most of Japanese people,  we are definitely conservative about our basic style about taking shoes off in the house.
In my childhood, my parents' house was more traditional,  typical Japanese style house floored by tatami. we have used low table to do everything such as eating,reading, studying etc, sewing off course,  by  sitting directly on the floor.
Many things was done on the floor,too. My mother was ironing clothes on the floor, putting the flat ironing board. We spread futons (devet) on the floor at night to sleep on, and  when I was boring,   I often was lying on the floor  and looking the wood pattern of the ceiling to find some interesting shapes.
As long as I know, only Korean people have a very similar lifestyle. Korea and Japan is a kind of 'brothers and sisters' , so possibly this lifestyle might have been transfered into Japan in ancient time by immigrants from Korean peninsula . Thus  I suppose that Korean people often cut their fabric before sewing on the floor in the same way I do now, but how about the other people? Do they have a large table always?
Then I remind of a picture by Beatrix Potter in the tale of 'the tailor of Gloucester'. In the picture, the old tailor is sewing on the board sitting cross-legged there, which  seems to me neither table nor floor, or in other words, seems to me  both.
His sitting style is the way like many Japanese men do on the floor in casual occasion, and also at the time of Buddism meditation. I found in the dictionally, this style is called in English ' sit tailor fashion' it is interesting!
However, this kind of facility could be  particular for professional tailors, so normally people might  not have it. Then how they could do for that? and how about  for seamstresses?
That is my recent interest, and I am going to ask about this to my friend in Britain.
2009/06/18
| Filed under
uncategorized
| Tags .
This is our most recent work, designed and produced to special order from Kurosaka Pediatric and Allegic Clinic in Himeji, Japan.
Honestly, I was so delighted to receive the lovely request from them, and also very impressed when I was asked to put some small bunnies or birds among the large flower patterns, in order that kids patients can be happy to notice those small animals.
In Japan, it is not so often that hospital or clinic adopt such a  cheerful kind of design in their  facilities. I heard that, when Dr.Kurosaka was working in Britain, he found a hospital had a beautiful curtain with large flower pattern, then he decided to follow the idea  to create happy atomosphere in his own clinic.  So, this apron which we made is already 3rd generation of what they adopted.
I am just so happy to have involved in this work, and also very honored that my artwork  is used for the place where people can be 'cured'.
2009/04/10
| Filed under
Art
| Tags .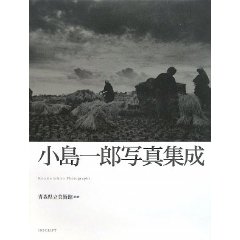 I came across the photo works by Ichiro Kojima by chance, on TV program, which was introducing his photo exhibision held in Aomori prefecture (northern part of Japan).
By that time, I didn't know his name. He died in 1960s when he was 39 years old. He was already getting famous when he was alive, for his artistic photos of the nature and the peasant's life in Aomori and Hokkaido. However after his death, he was almost forgotten, and also he is mostly unknown in abroad.the exhibision this year could be the revival and revaluation of his works in Japan.
The image of northern part of japan, such as Aomori and Hokkaido of that time,  may be, I suppose, similar to the image of  the northern part of the UK in 1940s-1960s.
Cold and severe climate, dull sunlight, bulk of snow, hard life…Kojima's photos carry those images very directly , but at the same time, those severe reality turned to the   artistic and beautiful forms in his works.
Talking about some of his last works which are printed in high contrast, they are almost like the abstract paintings, getting rid of any substantial forms. 
I heard that Kojima was linked to Jean-François Millet by the critics, but  I myself, remind of the photo works by Mario Giacomelli from Kojima's works.
2009/04/06
| Filed under
Book, Flower
| Tags .
My Newest book will be released at the end of this month (April 2009). This book is coming with full colour illustrations for wildflowers grown in Japan. I have done all of the illustrations and texts and it took almost for 4 years since the project started until it will be out!
these days , it is getting really spring here. In taking a walk around my home, I found various wildflowers blooming and I remind of the same season in last year, I went out to get them for sketching.
Above right is the cover of the book 'Nonohana Ehon'(means Picture book for Wildflowers'), and the left is the one of my sketchings for this book.( I've used the technique to make the paper look old )
2007/06/15
| Filed under
Book, Flower, Linen
| Tags .
A few days ago, I have just completed the last art work for the calendar 2008, for which I've been concentrated these 2 months.I am showing one of the works above.
This calendar would be published in this autumn to be sold in various stores including major bookshops all over Japan. Linnet also would carry it, off course.
By the way, recently we have increased numbers of customers from outside Japan. one of them was Mari from Los Angels. She was so friendly and I was so happy to meet her. She likes sewing and knitting very much.when I saw her, She had a bag she made herself, and it was so nicely designed that I thought she must be a product designer. it was my great happiness that she liked our original linen 'classique porcelain blue', click here to Mari's blog.
Rachel lives in  Melbourne, Australia, and  I feel like being a friend with her, even though I've not yet see her directly, because I talked so much with her by email about a lot which both we like, such as linen and cat!
 I am attaching the photo of beautiful cussions of Rachel's design( thank you Rachel!).Her brand is 'Coussinages', and she is now preparing to release items made with linens from LINNET !
2006/11/28
| Filed under
Flower
| Tags .
I am now working for the new picture book project for children about 'wild flowers' which is scheduled to be published in spring 2007 in Japan. In this book, some characters are featured such as ' the botanist, Dr Goat' and twin bunnies to give the knowledges and stories about plants to kids readers. I like animals to draw not only plants, so I'm  enjoying working on this project now.
Actually I came across 'wild flowers' ,as the context ,in Britain when I had been staying in the school called 'Winkfield Place ' located in countryside near Windsor when I was 25-26 years old . Before then, in my childhood, I have been playing with some wildflowers we could find closely, and that was all of my experience with wild flowers.
In fact, I don't like insects so much, particulary dislike caterpillers. At Winkfield Place, I could find a lot of wild flowers  walking around huge garden, meadows, hedges and even in forests around the school, without seeing any single caterpiller , even in the highest season during sprint to summer.
It is very nice situation for me rather than in Japan, where we have more hot and humid climate, and is the rich environment also for insects. Only having the first step into the hiking road in nearest, commonest small hill nearby, you must find a lot of huge, fat pale green or furry moss catarpiller on the road, or on any stalks of the plants standby.
So, the beautiful countryside in Britain was ideal location for me to find the wild flowers.
I also had purchased some books about wild flowers in Britain. For me, the first knowledge for wild plants was not in Japanese but in English including the names of the wild plants.
Even now, I love to read and look of those English books for wild plants in bed at night. I can remind of those happiest younger days in my life in which I had been thinking about wild flowers and the other beautiful things all day long without disturbing by any social matters.
My most favourite one is always  'Wild Flower Gardening' by Dorling and Kidersley. I've read this book plenty of times and my copy has a lot of handwritten notes i made myself  in it.
But last week, I've read a small handbook for Wild plants in Britain, which I left in my bookshelf for a long years and at first time found a small lovely wild plants of Linum family, which is called 'Fairy's Flax'. This plant has a slender stalk like flax for linen, but tiny, seems to be the same size as chickweeds and so, and also has tiny little white flowers in flax shape. What' s a lovely name! I'd like to look for it when I'll have a chance to visit countryside in Britain, hopefully next year.
As I haven't seen Fairy's Flax, instead I put at the top, my photo for 'Campion' which I took in countryside of north France.
This seems to me a common wild flower in Britain and Europe, but is cultivated in Japan also, and some florists have this flower occasionally. This campion was blooming gently amongst sticky leaves of wild thistle.
In hearing ' campion', I also remind of the name of famous movie director 'Jane Campion' who directed a beautiful movie 'The Piano'. 'Campion' is her family name, it's a beautiful and poetic name also , isn't it?
2006/09/11
| Filed under
Linen
| Tags .
I took this photo last year, and can remind that I was trying to catch the gentle atmosphere of this fabric- linen gauze from our collection.
This item have been sold out for months and finally came back to our stock recently. it is really nice indeed, i'm realizing again having a look after an interval a while.
Tomoko is a  college student and our part-time staff now. she is talented for hand-made and designs in my view, and I asked her to make some cosages by our fabrics, in order to use in the photos for my next book ( making book of the kids garments) which is scheduled to publish next year. She made some cute soft flowers using linen gauzes and so on and I liked them very much.(Sorry, i can show them only next year)
and also i was happy to hear her comments saying ' I was so surprised by the nice results derived from the high quality fabrics'
actually i have a same feeling as usual. in hand made, we can have a best results whan we use the good and high quality fabrics even in making by very simple recipes.it is like a cooking using good meats, fishes and vegetables.  
producing high quality linen is not so simple, at least it costs even high.
those high quality fabrics cannot be easy to get particularly for young people like Tomoko, who is a student,but i was happy that she found the truth by herself and share same feeling with me.
≪ October
M
T
W
T
F
S
S
1
2
3
4
5
6
7
8
9
10
11
12
13
14
15
16
17
18
19
20
21
22
23
24
25
26
27
28
29
30
31
BlogArchives:
New archive
Page
LinksAndBlogs:
Feed: